Last week, from July 4th to July 9th, ANTARES physicists have participated in the biannual get together of neutrino physicists at the 27th International Conference on Neutrino Physics and Astrophysics, Neutrino 2016 in London, England.
On Monday, July 4th, in the session about neutrino astronomy, Antoine Kouchner (AstroParticle & Cosmology Laboratory, Paris, France)  presented the latest results from the ANTARES neutrino telescope and highlighted the capabilities of the KM3NeT/ARCA detector for neutrino astronomy. In particular, A. Kouchner presented the unblinded results of the search for diffuse fluxes of cosmic neutrinos with data up to December 2015, both in the track and cascade channels (see figure below). The final sensitivity presented is very close to the cosmic flux measured by IceCube.
ANTARES results on diffuse fluxes were presented in the rapporteur's talk on the "experimental outlook" by M. Mezzetto (INFN Padova, Italy), for instance. The talk by A. Franckowiack (DESY, Germany) on Multi-Messenger astronomy, the same day, insisted on several ANTARES analyses (for example, the ANTARES neutrino ANT150109A, which triggered the discovery of a X-ray source by Swift). The review talk on Dark Matter by M. Danninger (U. British Columbia, Canada) praised the excellent results of ANTARES for the search of WIMPS in the direction of the Galactic Center, which show that ANTARES has the best sensitivity for neutrino lines.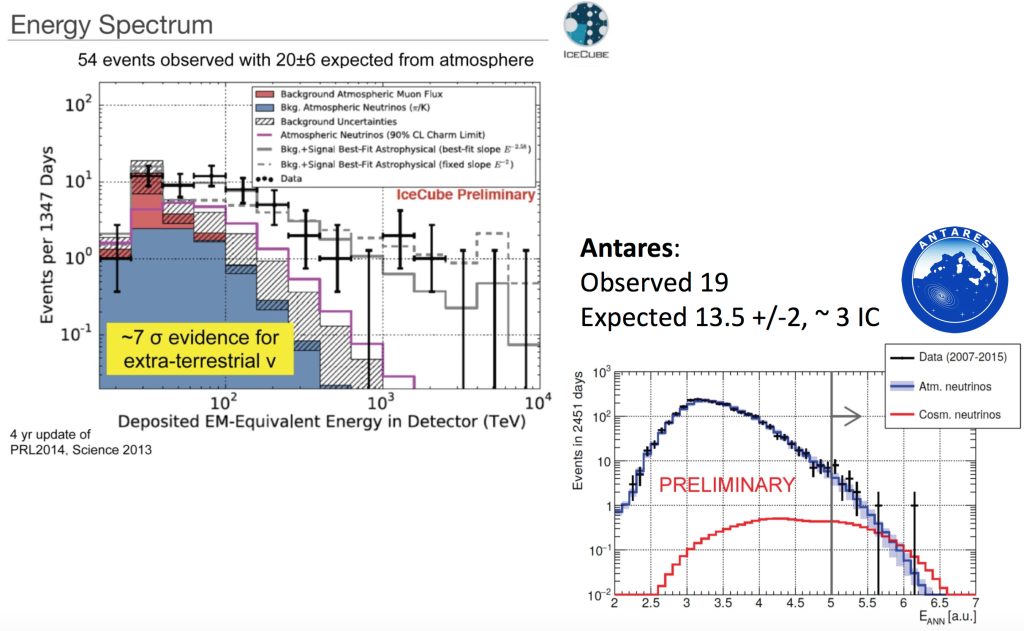 The following ANTARES posters were also presented at Neutrino 2016, which prove the wealth of ANTARES scientific results :